We often get asked whether our food at Ribs and Burgers is halal, so here's a little bit more about our status!
In this article, we will be discussing to see is ribs and burgers halal.
Is ribs and burgers halal?
To answer your long-awaited question, the short answer is: No and yes.
Ribs and Burgers is not a halal-certified restaurant. However, the majority of our ingredients come from suppliers that hold halal food certifications.
For example, all of our beef and chicken comply with halal guidelines, to ensure we are not leaving our customers in uncertainty and further questioning to see is Ribs and Burgers halal. Additionally, our meat suppliers and butcher all carry a halal meat certification.
As for our sauces, bastes, and marinades, these may contain wine vinegar and wine. That said, they are all also cooked, which means that the wine and wine vinegar cook off in the process. However, we can of course skip the sauces or bastings – just let your server know when ordering and we'll be sure to keep your meal free from those additions.
In terms of our preparations and cooking, we do not have the set-up necessary to use separate grills and equipment for non-pork products. To offer our halal customers one option, we will happily clean our cooking tools before preparing your order. Simply let us know and we'll get to it!
We understand that our non-certification status for halal meals may pose a problem for some customers, and we apologise for any inconvenience, in determining if Ribs and Burgers are halal. We do hope that the combination of our halal suppliers and our keen readiness to adjust our meals and practices for your order will help to make dining at Ribs & Burgers an inclusive and enjoyable experience.
But we are more than happy to clarify any confusion when it comes to asking is Ribs and Burgers halal. So, why don't you come down to Ribs & Burgers and try our burgers with halal requirements kept in mind?
Try our amazing range of Wagyu Royale, Wagyu Big Cheese, our Beyond Butcher's Orginal or the Peri Chicken Burger today.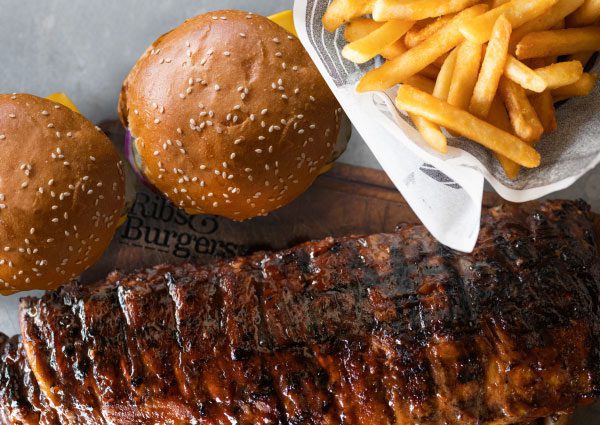 To give further insight to the question, is our restaurant at Ribs and Burgers halal? We would like to emphasise that our range of products follows halal guidelines – which includes our range of enjoyable ribs such as Premium Beef Ribs. Come over to Ribs & Burgers today and give it a try today.
What about other dietary requirements?
Ribs & Burgers makes a real effort to cater to all dietary requirements, so it's pretty likely we'll have what you're after!
When you explore our menu page, you can see meals are clearly labelled with a vegetarian tag, which accounts for a good number of burgers and meals thanks to our Beyond meat options and Fable options.
You'll also find gluten-free and dairy-free tags next to some items, but keep in mind that we can also switch out our buns to gluten-free (for $2 extra), so there is definitely some wiggle room.
As for allergies, you're best to speak with your individual restaurant, we are more than happy to answer your questions!
We hope this answered any questions relating to Ribs and Burgers halal. If you have any questions feel free to contact us.
So, if you are still curious to know if you're busy typing in 'halal food near me' and looking for something tasty, consider the above information and make a beeline for the real food and real flavour at your nearest Ribs & Burgers or order online with the help of your smart device through the Ribs & Burgers website today.