All the details for your peace of mind
If you have any questions about our range of products, ingredients or anything else, shoot us a message via the enquiry form on this page!
At R&B, we share a culture of inclusivity and welcome all customers regardless of their dietary requirements to any of our restaurants internationally.We are not officially a Halal certified restaurant, however, most of our ingredients are sourced from suppliers that have halal certification.
What this means is that:
All our beef & chicken is being slaughtered to comply with halal guidelines.
Our butcher & meat supplier carry a halal meat certification.
Some of our sauces like burger baste, rib baste and lemon and herb marinade may contain wine and wine vinegar, however, these sauces are cooked thereby allowing for the evaporation of any wine/ vinegar.
If you prefer to leave these bastings off, simply let us know and we will happily comply with your request.
At this stage, our kitchens are not set up with separate grills & utensils for non – pork products. This being said, we will gladly clean any equipment/ utensils ahead of preparing your order.
We trust that you will visit any of our restaurants and will welcome any feedback that you might have of your experience!
Contact your local store for information! 
News
Ribs & Burgers is offering 30% off the total bill up to $100, across all their outlets for healthcare workers during the coronavirus crisis. We thank and celebrate the amazing and dedicated healthcare workers that
Read More »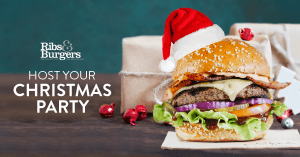 News
Make a booking request today for your Christmas function at one of our many locations… We'll serve up burgers, beers and ribs. Get in touch!
Read More »
News
When a review changes your business perspective.
Read More »
The sauce, straight to you!
You want it? We got it! Just like our burgers, our app is full of the juciest details. We've got the specials, news, store openings… you name it! Get the sauce today.