Ribs & Burgers is turning 12, and we have all of YOU to thank for it! Without you, we wouldn't be here, serving delicious ribs on the bone, burgers you need two hands to eat, tasty thick shakes and so much more.
It's our birthday, but we want to party with you! All our Ribs & Burgers friends and family! Plus, we're doing the whole gift-giving thing wrong. How? We want to give YOU birthday presents!
Come in-store to celebrate with us and find out more!
Old School Wagyu With Chips For $15!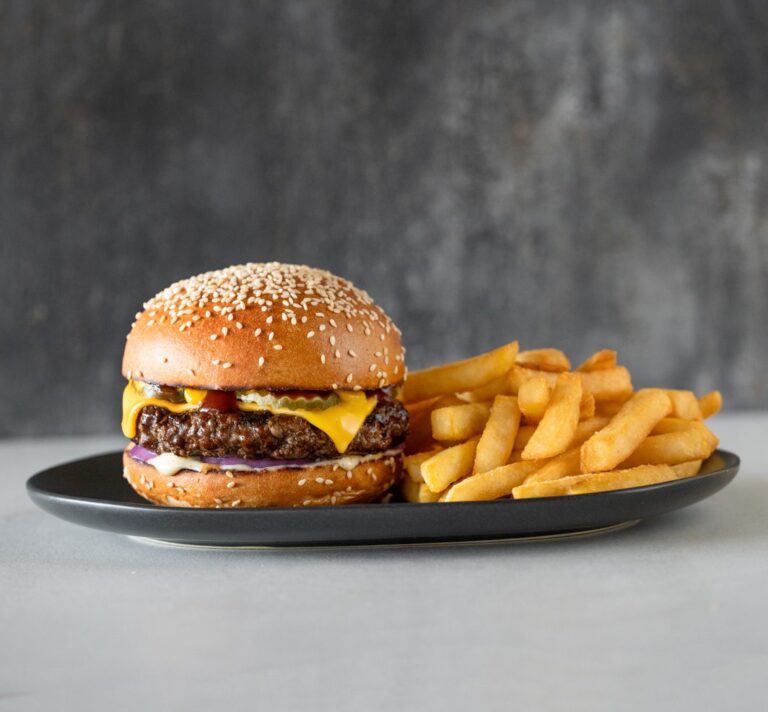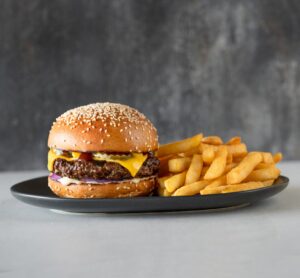 Let's get into the birthday spirit with an incredible give back for you! It's more special than a birthday cake, we believe.
For a special occasion, we wanted to give you one special burger to wrap your hands around.
We're offering you our Wagyu Old School Cheese Burger combo, with chips, for only $15.
Our old school cheese burger is our best selling burger. You can't go past the classics, can you? And now, we're taking the classic up a notch, to legendary status, by introducing a Wagyu pattie into the mix.
Wagyu burger, grilled and smelling smokey and delicious, with melted cheese and hot chips on the side. So good, don't you think? For just $15!
Why not treat your friends as well? Bring everyone into Ribs & Burgers and celebrate with us! It's going to be a party! We're decorating our stores with balloons and birthday bunting! Take photos of you and your friends in store! We're so excited about turning 12! Can you tell?
But get in quick, as it's only available for a week!
Did Someone Say Competition?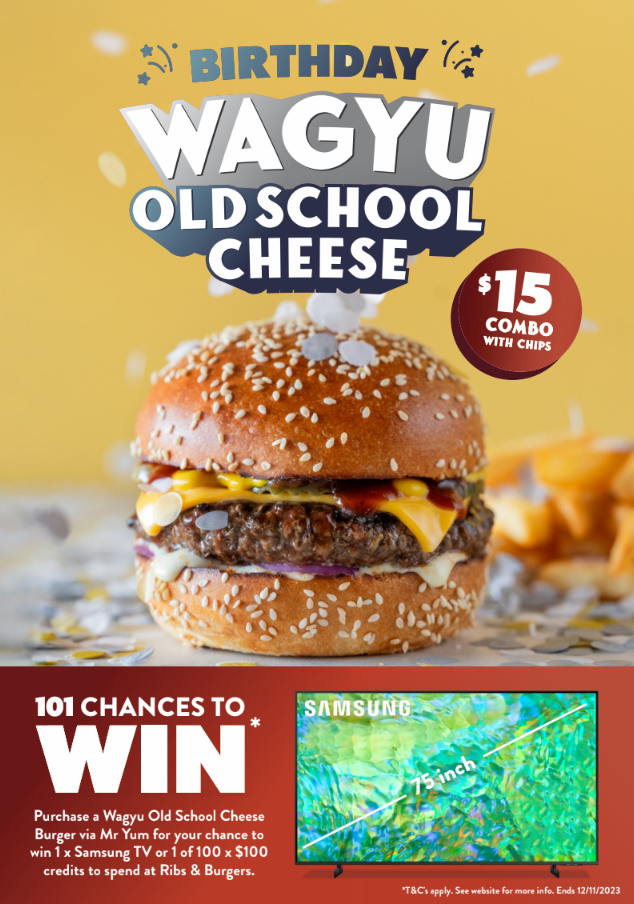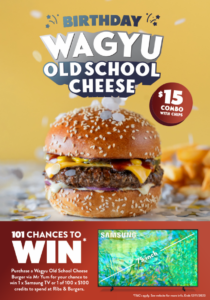 If you didn't, we sure did. It might be our birthday, but we're the ones giving away birthday presents to you!
Want to win a 75-inch Samsung TV? Sounds pretty good, huh?
All you need to do is visit your nearest Ribs & Burger restaurant, purchase a Wagyu Old School Cheese Burger combo, and you'll automatically be in the running for this HUGE TV prize!
For the following 100 lucky Ribs & Burgers winners, we have a $100 credit to spend on your next visit!
Come into our restaurant, order this awesome combo, and be in the running for a shiny new television.
Make Your Way To Ribs & Burgers Today!
Hop online and find the nearest Ribs & Burgers location to you. We're almost everywhere, and there is sure to be one near you.
You can enter as often as you buy a Wagyu Old School Cheeseburger combo. Remember- for one week only! Celebrate our 12th birthday with us!
Ribs & Burgers are the best ribs and the best burgers in Sydney! And we're 12 years old!