Anyway, we digress.
We're here today to talk about types of ribs, which we're certified experts on (even if we say so ourselves). Namely, baby back pork ribs vs spareribs. What's the difference? Is one type more superior than the other? Read on and all will be revealed.
Baby back ribs
Aliases: pork loin back ribs, back ribs, loin ribs
Scientifically and meatily speaking, baby back ribs are cut from where the rib meets the spine. They're called baby back ribs because they're shorter and smaller than spare ribs.
Baby back ribs are very tender and lean, and they tend to have a higher price tag than spare ribs. Because of their small size, baby back ribs also tend to cook more quickly, while spareribs need a little more time and TLC to get tender.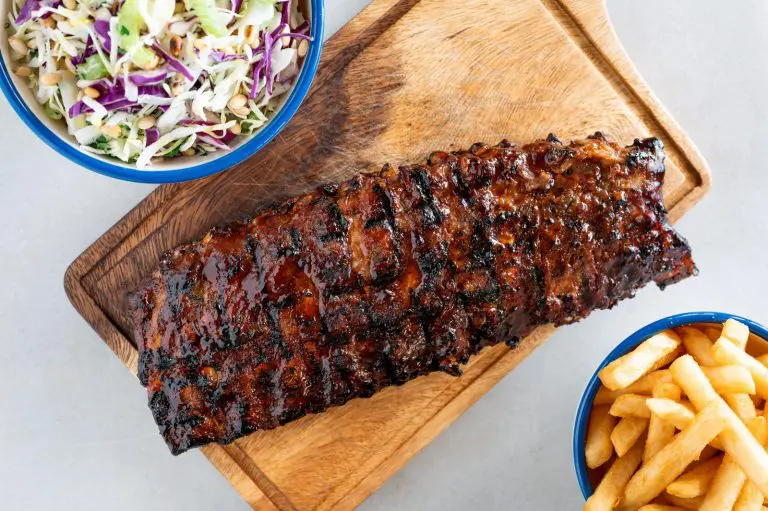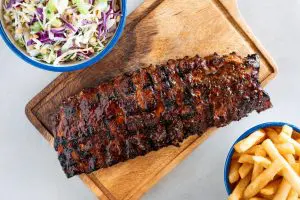 Spare ribs
Aliases: St. Louis spare ribs, pork spare ribs
Spare ribs are meaty ribs cut from lower down near the belly. They're bigger and fattier than baby back ribs, and equally as delicious given enough time to get nice and tender. Spareribs are usually better suited to slow-cooking rather than being thrown on the grill.
You might also see the name 'St. Louis spare ribs' being bandied around in ribs-loving circles. This is just a type of sparerib with the breastbone and cartilage removed, making the slab of meat more uniform in shape and easier to work with. St. Louis-style ribs are flatter than baby back ribs, which makes them easier to brown. The higher amount of fat also makes them extra flavourful.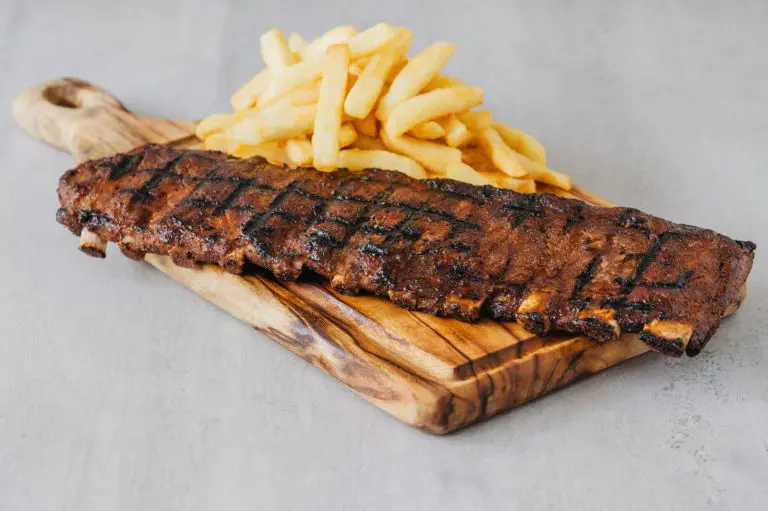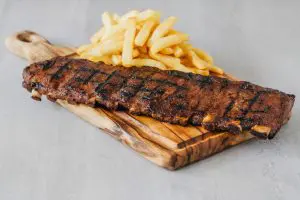 Which one makes superior ribs?
This all depends on who you ask. Some people prefer spareribs because the higher fat content guarantees a juicy and meaty flavour. On the other hand, baby back ribs' small size means they're extra tender and each rib delivers a tasty morsel of meat with a lower fat content.
Either way, the key to delicious ribs is a flavourful marinade or dry rub and the right cooking time.
At Ribs & Burgers, we slow cook our pork ribs in their own juices for a maximum natural and delicious flavour. We also use a top-secret family recipe for our homemade basting, and finish with a touch of flame for the perfect flavour and texture in every bite.
Oh, and we serve them up with a generous serving of hot chips or a cabbage salad, so there's no chance of walking away feeling anything less than absolutely content and thoroughly stuffed.
Hungry yet? Come in and try our out-of-this-world ribs at Stanhope Gardens or a location near you.