Have you heard the news? We're now giving our customers the option to swap any meat patty for a plant based patty at no extra cost!
Burgers that look, taste and feel like meat burgers, but are made from plants! Impossible, you say? Well you should, because they are our new Impossible Burgers! And they're now available wherever you find a Ribs & Burger.
Introducing the Impossible Royale with cheese, lettuce, pickles, and seasoned onion rings. It's good to be the king.
Try our Impossible old-school cheeseburger. Nostalgia in a bun, with an impossible patty, American cheese, red onions, pickles and more. Pair it with a shake and fries.
The third member of our Impossible range is the Impossible Butcher's Original. Fresh salad, pickles, our special sauce and a soy-based patty that you'd swear was meat. You won't believe it's not beef!
What is a Plant-Based Patty?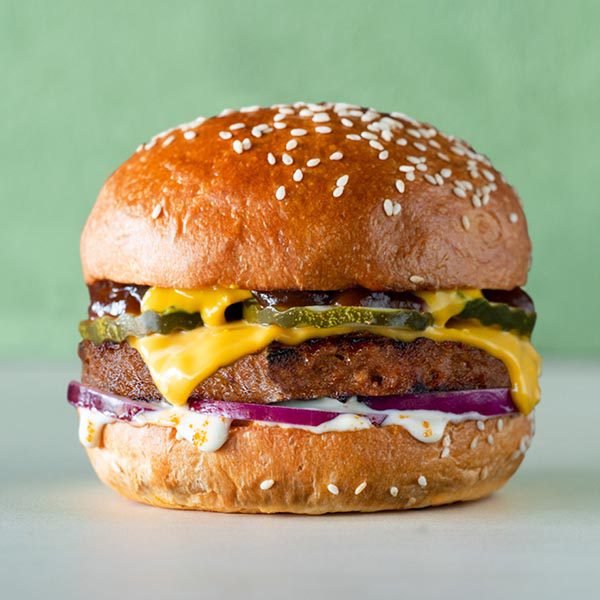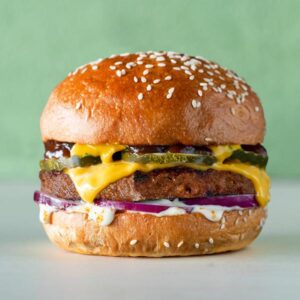 The team at Ribs & Burgers wants everyone to enjoy their food. We don't want anyone to miss out because they don't eat meat. This is why we've introduced our Impossible plant-based patties. Now everyone can enjoy a 'meat' burger the Ribs & Burgers way, without the meat!
Eating a burger is more than just having a meat patty in a bun. There is also a taste and a texture, which gives an overall gastronomic experience. Our Impossible Patties give you this, even though there is not a skerrick of meat!
Enjoy that whole burger feeling with an Impossible Patty.
What is Our Plant-Based Patty Made From?
Our Impossible Patties are made from zero per cent meat. It does have water, Soy plant protein, sunflower and coconut oils, vitamins and minerals and a whole load of other ingredients. The main ingredient, however, is soy.
You can find the whole list of ingredients here and some nutritional information as well. Find the plus signs and hit them to expand the menu.
Impossible Patties are more than just simple meat replacements. The team behind them researched what made meat taste like meat and feel like meat. They discovered the heme molecule, which produces that succulent meat aroma and taste. Add that molecule to soy, and you have all the aspects of a beef pattie, but without the cow.
Plant based burgers are healthier than the meat alternatives, but with the added sauces and salt you consume at the same time, you still need to be conscious of your diet as a whole.
Grab Your Next Plant-Based Burger at Ribs & Burgers!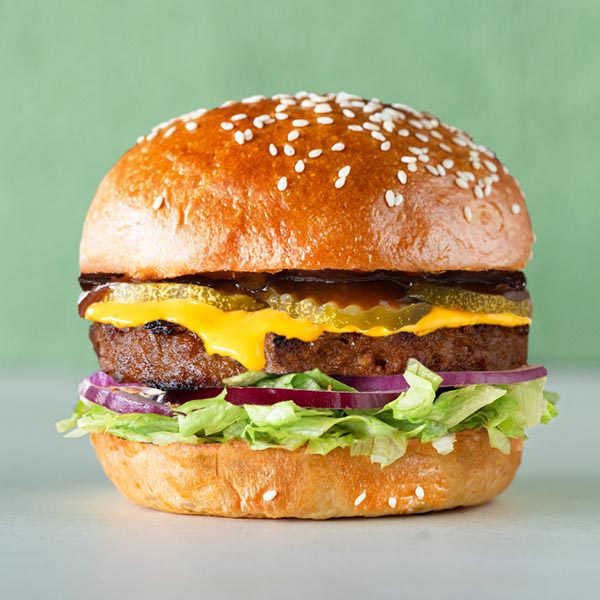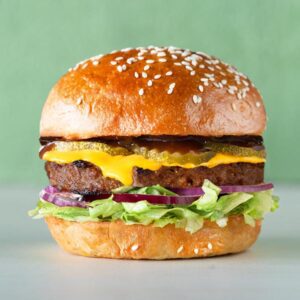 Are you interested in our Impossible burgers? Even if you're not a vegetarian, we encourage you to give it a go and see if you can tell the difference.
Choose your favourite from the menu when you eat in, or you can order takeaway to pick up.
The Impossible range of burgers is now available at all of our restaurants, so find the closest Ribs & Burgers to you, and enjoy a plant-based burger today!