Drum roll please…a new exciting Gregory Hill restaurant has entered the scene! If you've been looking up "burgers near me" lately, well look no further. Step inside our Grillhouse dinner restaurant (or grab some lunch) and experience the casual, friendly and relaxed vibes. Our Gregory Hills food will leave you with nothing but a full belly, so step inside and enjoy good food, good convo and lots of laughs.
We know you've got a bunch of restaurants in Gregory hills to choose from, but the thing is we've got it all. Whether you are into burgers, ribs, steaks, salads or desserts, our fantastic R&B Grillhouse menu has you covered. Wash your meal down with our great variety of thick shakes or even cocktails, wine and beer for the adults!
And, if you're looking to try the delicious options at our grillhouse but just can't seem to find the time to make it into the restaurant, don't worry, we've thought of that too. We don't want you to miss out on what we've got to offer, so we'll bring the fun to you. Simply order from our ribs and burger takeaway shop for all the Ribs & Burgers deliciousness from the convenience of your own home, what could be better than that? When you get a taste of our Half Pork Spare Ribs, you'll instantly get why we're known for being the best ribs restaurant in Gregory Hills.
Does all this sound too good to be true? Well, we think it's time you tried us for yourself. We're a grill restaurant that you won't forget. Simply visit our location for that lively dining experience we've been telling you about, which is available for both lunch and dinner! And, we offer both a takeaway option and delivery right to your door, so you can choose just how the food gets to you. Our takeaway shops afford the same speedy service and delicious taste, just from the comfort of your couch! Now, the only thing left is to order online so we can get it started.
Whilst the food in Gregory Hills is enviable, ours truly holds its own. Whether you're a rib or burger lover, we just know the food will speak for itself when you try us, and we can't wait for you to come to check us out.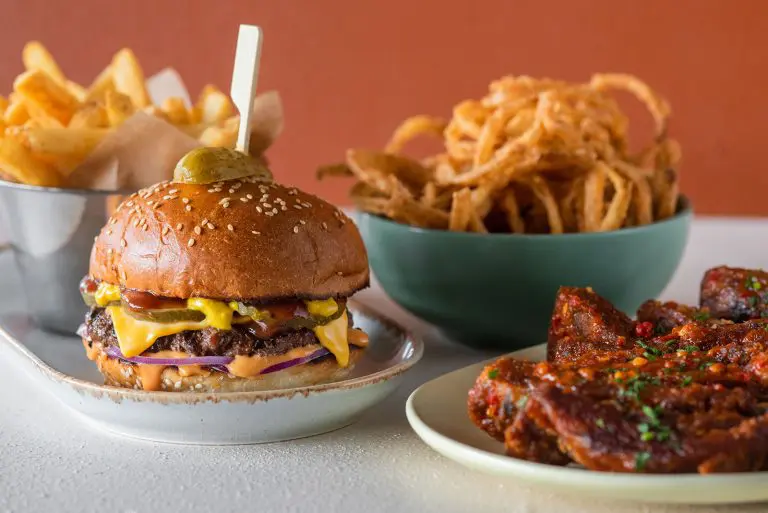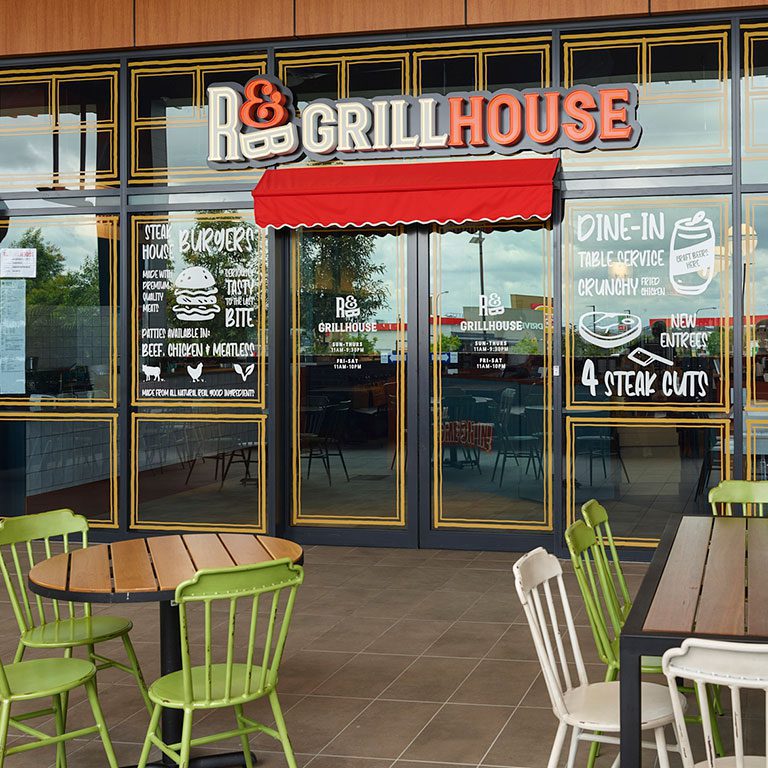 When you're thinking of a steakhouse you know that the person on the grill is the master of ceremonies! The grill is over 300 degrees and no matter what cut you order or what temperature you want, the skill is getting it right every time so your steak is exactly as you like it!
The beef burgers at our grillhouse are cooked over a flame as the flame brings out the charred taste that is the only way to enjoy a really good burger! The slow-cooked ribs are sous-vide and finished over a flame to give them the delicious caramelised flavour! Whatever you want off the grill it will come with either chips or a side salad to make it a meal to savour.
Our grillhouse is the perfect spot for a midweek burger or a Friday night feast, just bring yourself and your friends and we'll bring the best burgers in town. If you're popping in for a delicious weekday treat, why not really indulge when you try our Wagyu Royale burger? A rich wagyu patty, sandwiched between fresh and saucy ingredients and housed in a fluffy bun. There is truly no better way to celebrate hump day than with one of those bad boys at our burger restaurant.
Or perhaps for a Friday night feed, you're looking for something a little fun? Then look no further than our tasty ribs, the answer to your end-of-week feast desires. Our Premium Pork Baby Back Ribs truly are the best ribs in town as they're lovingly prepared in our signature basing and pair perfectly with a bowl of chips and perhaps a cocktail or two. You have got to get down to Ribs & Burgers Grillhouse Gregory Hills for fantastic food and a fun, vibrant atmosphere to match.
Our Ribs & Burgers Grillhouse Gregory Hills location speaks for itself. Gregory Hills restaurants are certainly incredible, but with our casual and fun atmosphere and delicious approach to dining, simply step inside for the answer to your dinner (or lunch) dreams. We're ready to get our mouth-watering options on the grill for you, so whether you're an Old School Cheese kind of guy or a Crispy Chicken kind of girl, we've got something for everyone when you check out one of our tasty locations.
Our goal is for you to leave feeling satisfied, and yet somehow still wanting more, thick shake to go anyone? At Ribs & Burgers Grillhouse Gregory Hills, we're truly thrilled to be able to grill for you! There are plenty of burger places around but none quite like ours, so come on down and join in, we'll save you the best seat in the house.
Tenancy 121, 33 Village Circuit
Gregory Hills, NSW
Sun-Thurs: 12pm– 9:30pm
Fri-Sat: 12pm – 10pm
Check out our brand new Grillhouse menu