March to the beat of your own Drummoyne and march right on down to R&B Grillhouse, where the service is friendly, the atmosphere is relaxed, and the food is good enough to have you marching in our doors every chance you get, there are plenty of burger places you could try, or restaurants in Drummoyne, but none are quite like ours. Whether you're after a tasty rib or a burger, we'll get it started for you right away.
At our restaurant in Drummoyne, you'll find a succulent range of ribs and steaks, as well as hearty burgers, fresh salads, and moreish desserts. There's also a full range of vinos, beers, and cocktails, although the thick shakes are so good it won't just be the kids ordering this milky goodness, the adults will want in on them too, we recommend the Caramel Espresso Martini Thickshake for a grownups only sweet treat.
Here at Ribs & Burgers, we want you to be able to enjoy our delightful menu of delicious options, even if you can't make it down to our Grillhouse in person. This is why Ribs & Burgers Grillhouse Drummoyne offers our feast to take away as well as dining in. Whilst there are takeaway shops that might offer you a quick snack, we're here to bring you the whole menu. Simply order something delicious, like a burger to take away, and we'll deliver it straight to your door. You can give us a call and drop by to pick it up, or for an even more convenient option order online and we'll deliver it straight to your door, how simple is that? Succulent ribs and flavourful burgers from the best burger restaurant in town, delivered straight to your door.
However, we'd love to see your faces and have one of our incredible staff members serve you, so if you've got a free afternoon or evening and are looking for a fun, vibrant and best of all, delicious dining experience, then stop by for a sit-down lunch or dinner at our grillhouse to let us introduce you to some of the best Drummoyne food in town. We can't wait to see you soon, we'll save you a seat.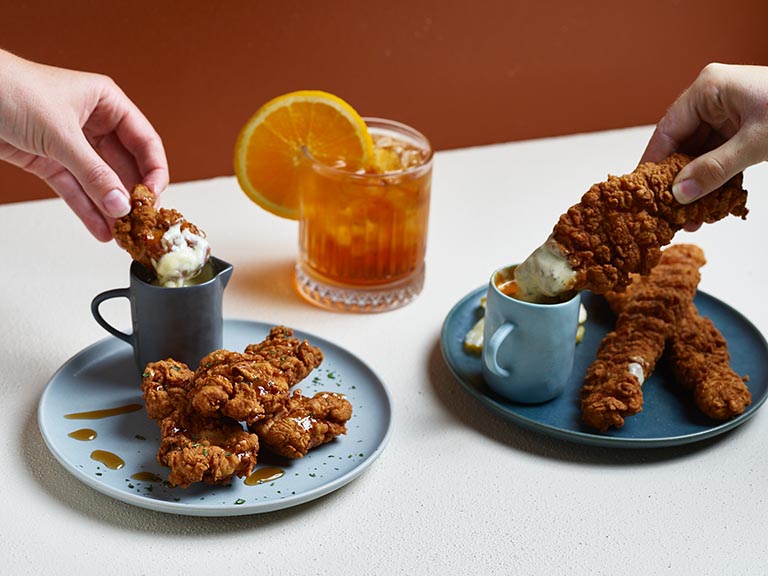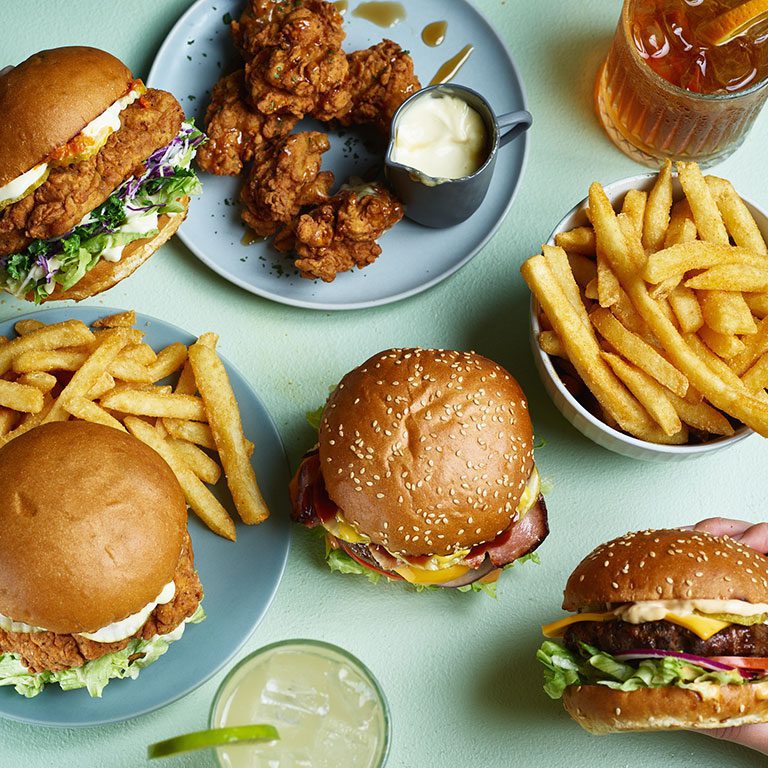 There are plenty of great Drummoyne food options, but none are as great as our grillhouse, a quick search for "burgers near me" and we'll pop straight up. But, there's more to grilling than tapping the tongs together just right or wearing a cool chef's hat (although those are the best places to start). Our grilling master knows just how to get the perfect char-grilled flavour to your steak, whether you like it blue and faintly mooing or perfectly medium-well.
And that's exactly why our burgers are so famous, some would even say they're grill-iant. If you pop by for a cheeky weekend indulgence, you cannot go past one of our burgers. If you're looking for the truest of tasty treats, you have to try our Maple Bacon & Cheese Burger. This bad boy contains a perfectly cooked Australian chuck and brisket beef patty, delightfully decadent maple bacon, American cheese, crisp veggies, and of course a mix of our signature sauces. We truly have the best burgers in Drummoyne.
The grill is the place where flavour comes to life, and every one of our beef burgers also goes through a trial by fire at the hands of our grillmaster for added taste and texture in every bite. And while our famous R&B Grillhouse ribs are slow-cooked sous vide style, even they are finished over the flame for that delicious caramelisation and crisp finish.
Has that piqued your interest? Is your mouth watering at the thought of some of the best ribs in the business? The Drummoyne restaurants might be good, but we're better. Let us introduce you to our Premium Pork Baby Back Ribs. This succulent feed will be unlike any other, as our ribs are lovingly slow-cooked and then basted in our signature basting that gives them their incredibly unique flavour. Plus, pairing them with chips or a fresh salad will really seal the deal. When you enter our grill restaurant, prepare to leave with a full belly, because you won't want to stop once you've had a taste of our grub. We're the perfect solution for a mid-week pep-up or an end-of-week celebration.
At Ribs & Burgers Drummoyne Grillhouse, we're all about that grill, and great service. We're a lunch restaurant, a dinner restaurant, and everything in between. We're here to serve you the best food in Drummoyne. So drop by for a taste of our classic Butchers Original burger, or perhaps you'd prefer to nibble on a large serving of our delectable Beef Ribs? Everything can be served with delicious salads or chips and of course a smile on your face and ours. So come on in and see (and taste) what everyone in Drummoyne is raving about, we hope you brought your appetites!
Tenancy 4 77-105 Victoria Rd,
Drummoyne NSW 2047
Check out our brand new Grillhouse menu